Today, on 2 July 2020, the UNEXUP coordinator – Norbert Zajzon – presented the project at the IN THE BLACK'20 Online workshop- The Safety of People and the Planet through the Application of Technology, under the SESSION II ["Raw" Projects in Sustainable Discovery and Innovation]. The event was organized by INESC TEC (UNEXUP partner), EIT RawMaterials and TEC4SEA.
The event started with an opening session, introduced by Stef Kapusniak, who mentioned the importance of eliminating the safety and environmental risks in mining in order to gain social acceptance on it.
The SESSION I was about the application of technology in mining, in which Bramley Murton – from the National Oceanography Centre, who mentioned the importance of deep sea mining. Following, Gary Van Eck – Diamond FutureSmart Studies, De Beers Group – presented about the importance of the technology in mining safety and management of risks. The first session was concluded by Marc Lincoln – Project Management Technology De Beers Group, who presented about the application of technology in mining, processing, energy and logistics.

The UNEXUP presentation opened SESSION II of the event. In this opportunity, Norbert Zajzon covered various topics about the project, such as overall details, funding, consortium partners, background, objectives, and expected results of UNEXUP, and the planned evolution of the UX-1 robotic platform. The Project Coordinator showed the new UX-1 NEO, which will be ready in the second semester of 2020, with the new software, hardware and scientific payload that will be included. In addition, he mentioned the importance of the pilot tests, which will be performed to calibrate, test and validate the technology under challenging underwater environments, in a "real service-to-client" commercial approach. Norbert closed the presentation talking about the Go-To-Market strategy, which will be led by the company UNEXMIN GeoRobotics Ltd. – the future provider of the exploration service for flooded mines. After the presentation, a round of questions about the navigation system and autonomy concluded the participation of UNEXUP in the online workshop. SESSION II was concluded by Pedro Jorge – INESC TEC – who talked about Applied Photonics (CAP) by introducing the inSITE project, which is an EIT RawMaterials project is going to perform in situ ore grading system using LIBS in harsh environments.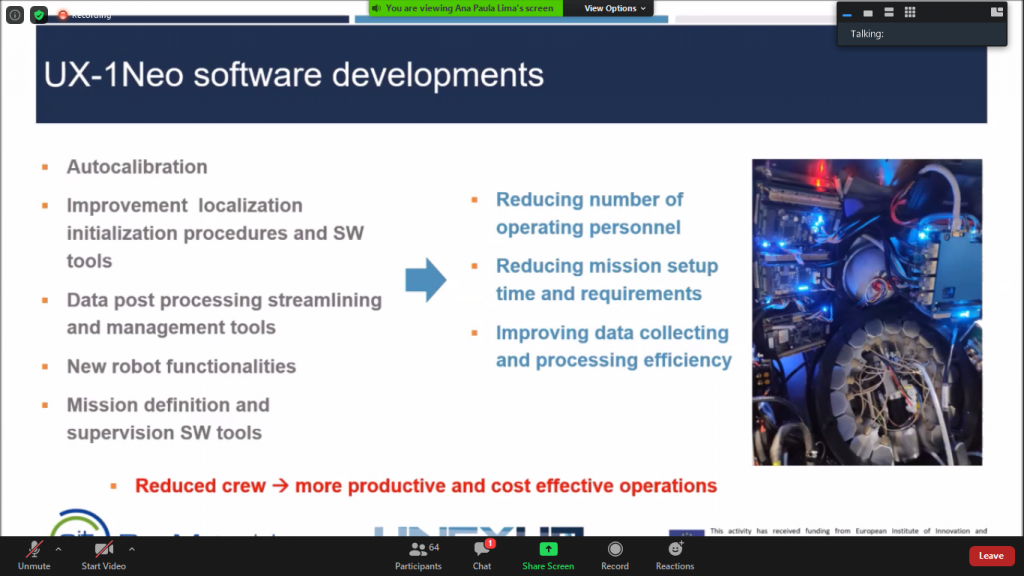 After the presentations, there was a closing session with final words. The IN THE BLACK'20 online workshop was a great opportunity for the UNEXUP technology to be promoted to a total of 71 participants, from the mining sector and other stakeholders' categories.