On March 24th-26th the UNEXUP consortium had a three-day e-meeting in order to discuss the work plan and timeline of the Work Packages dedicated to the technical requirements (WP1) and the commercialization strategy (WP0). This meeting was supposed to be held in person, in Gran Canaria – Spain, however, it was held via teleconferencing due to the quarantine measures of the COVID-19 pandemic.
The first day of the e-meeting (March 24th) was dedicated to business and commercialization plan of the future UNEXUP underwater mine mapping/exploration service. UNEXMIN GeoRobotics Ltd. (UGR) is the partner responsible for this task, and Hilco van Moerkerk (UGR's Managing Director) presented the work plan on this topic, mentioning our target markets, threats, how to understand the customer's needs, and how to fulfill these requirements. In addition, Luís Lopes – La Palma Research Centre (LPRC) – presented about the Go-To-Market strategy, mentioning a brief market assessment made during the PDAC 2020 convention this year.
On March 25th, the initial presentations were led by technology developers of UNEXUP: INESC TEC and 4dcoders (RCI). Both teams presented about the work progress regarding the technology requirements and developments in the current UX-1 robotic platform, as well as the future steps regarding the development of an additional robot that will be added to the system at later stages in the project. The additional robot will be able to complete missions that require even higher capabilities regarding navigation, autonomy, self-awareness and geoscientific data production, under even more challenging environments. In addition, Emil Pucko – Geological Survey of Slovenia (GeoZS) – presented the strategic plan for commercialization, business plan and risk assessment, in order to understand the market opportunities, and how the UNEXUP service will be able to succeed in it.
The last day of the e-meeting (March 26th) was dedicated to technical discussions, in order to bridge the market requirements with technical abilities of the UNEXUP technology, as well as discussions about the planning on software and hardware developments during the project's lifetime, led by Máté Koba and Zoltán Papp Richárd (University of Miskolc – UNIM).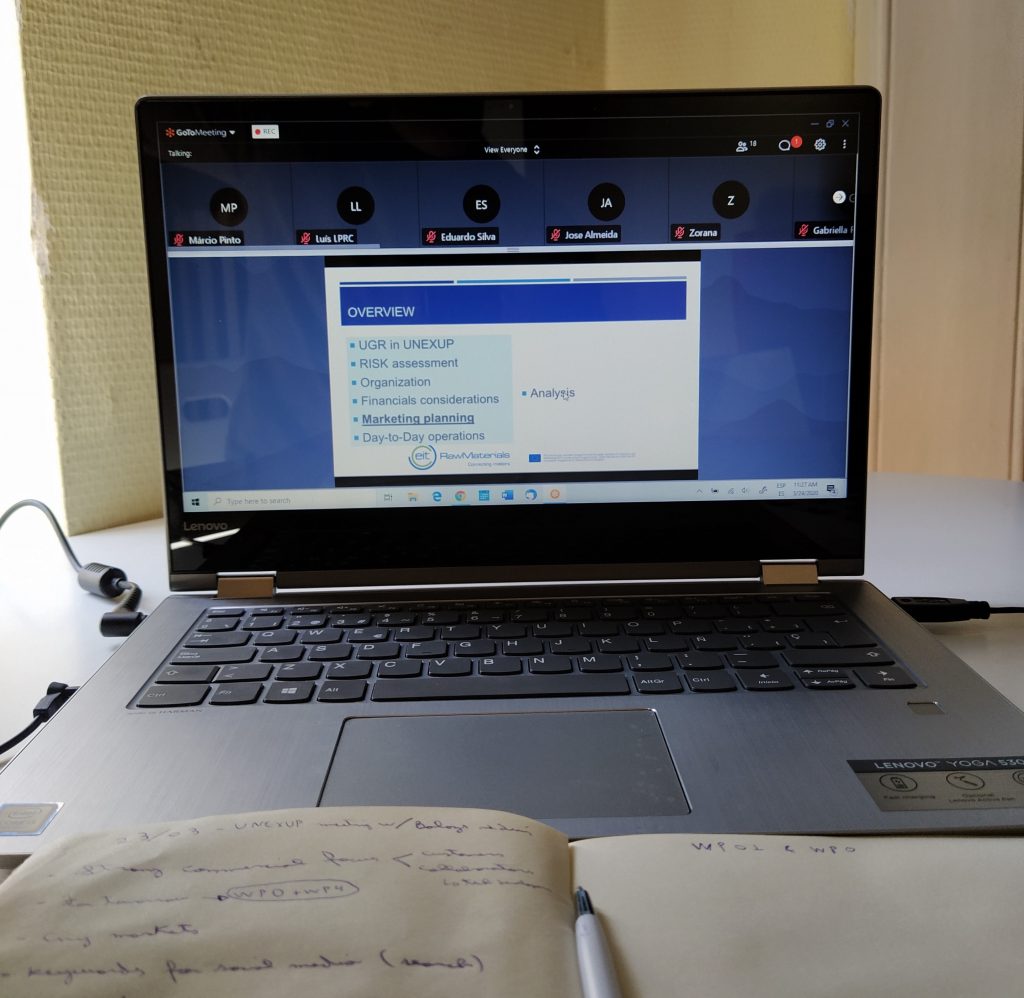 In this second consortium meeting (the first was the UNEXUP kick-off-meeting), the project partners raised valuable discussions and inputs regarding the project's progress and work plan on the technical and commercialization topics. Now the consortium is more prepared to understand what our potential customers' needs, what types of markets can be targeted by the UNEXUP technology, and what are the next steps in order to deliver a successful service to the future clients.